Perry City Friends Meeting
(Quakers)
Perry City Monthly Meeting of the Religious Society of Friends (Quakers)
Perry City, NY USA

PO Box 291 Trumansburg, NY 14886
Meeting for Worship
Sunday at the Meeting House (6324 Route 227 in Perry City)
Directions: Google Maps
11 a.m. from September through May
10 a.m. from June through August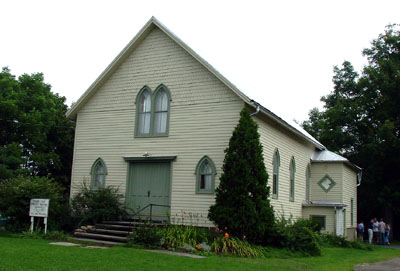 Meeting for Business
Meeting for Business is normally the first Sunday of each month.
First Day School
Our First Day School for children is currently not regularly scheduled. When children are here -- we have a program for them.
SPRING DANCE!
For information on our contradance on March 28, 2015, take a look at our pdf flyer! Family activities start at 6:45 and dancing starts at 7:15!
Committees
Ministry and Council

Adult Education
Care and Nurture

Religious Education
---
Calendar for Perry City Friends Meeting
Quaker Links
www.quaker.org -- a comprehensive list of Quaker related web pages

Friends Organizations

American Friends Service Committee
Powell House -- New York Yearly Meeting retreat center near Albany
Pendle Hill -- a Friends retreat and study center near Philadelphia

Friends Publications

---

Maintained by: R.B. Robinson and B. Bower

Last updated on March 8, 2015